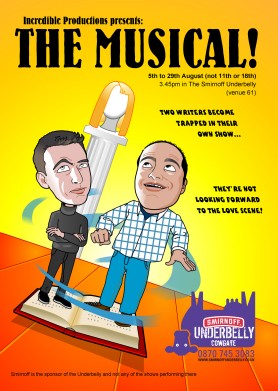 A comedy musical
by Ashley Frieze and Chris Parr.
Listen to the jingle
Contact Ashley via ashley@ashleyfrieze.co.uk and on Twitter at @ashleyfrieze
Ran for 31 performances between May 2004 and March 2005
Two guys decide to write a musical according to the instructions in an "ancient Japanese Gypsy book". The book turns out to be cursed and they become trapped in their own show. They have to write the rest of their musical to escape being DAMNED FOR ALL TIME... and they're not looking forward to the love scene!
Can they master the magic of the musicals and break the Japanese Gypsy's curse? Or will they kill each other first? Call it a comedy, call it a musical, or call it comical - you wouldn't be wrong.
The Musical! from Ashley Frieze on Vimeo.
For more information about this long-since defunct show, please click here.
a witty, unpretentious and highly
enjoyable slice of comedy theatre
**** - Three Weeks (Fringe '04)
It's great fun, the music is good
and the two writers/actors/musicians/singers
are endearingly gormless!
**** - British Theatre Guide (Fringe '04)
A clever idea, which has the potential
to be developed further
**** - One4Review.Com (Fringe '04)
this unpretentious cabaret is pretty good fun...


performers Ashley Frieze and Chris Parr are engaging


*** - The Scotsman (Fringe '04)
Brilliant


Newcastle Evening Chronicle (May '04)