Some songs are written, others appear to have been scrawled on a toilet wall. Comedian Ashley Frieze explores what makes songs great, and what happens when music fights back. Bring along your favourite songs if you dare. Today might be the day the music dies. Hilarious and thought provoking musical comedy.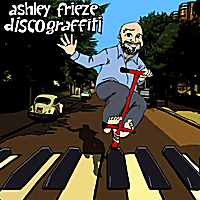 Buy Album on CDBaby.com
Buy Album on Amazon
**** The definition of warm-hearted light entertainment, Latest 7
Previewed
Hen and Chickens - 5th July 2012
Big Jack's, Reading - 12th July 2012
Caroline of Brunswick, Brighton - 26th July 2012
Fringe Festivals
Brighton Fringe 2012 - 18th/19th May @ 9.30pm & 25th/26th May @ 8.15pm
Henley Fringe - 18th July 2012
Edinburgh Fringe 2012 - 11th - 26th August
A comic look at the art of songwriting. An instrument wielding joker confesses all about writing that tricky second album.
"Simply the best!" Tina Turner
"It's a little bit funny" Elton John
"Why, why, why?" Tom Jones